Grandmaster Channeling High Being Signal Help You Remotely
-- Miracle Individual Healing
Great News! Powerful individual remote healing reopen, many previous great feedbacks with Grandmaster's unique healing. The remote healing represents Grandmaster as a vehicle to connect three high being system coming to provide energy signal support.

No matter what state or country you are in, individual remote healing is now available from Grandmaster Qin. When she enters a healing state of consciousness, powerful remote healing signals can travel instantaneously across space to you. Grandmaster Qin's remote healing is just like rain in Spring, and sunshine in Winter. Whether your meridians are sensitive or not, you will experience the power of universal spiritual energy.
Grandmaster Qin's remote healing is particularly effective in the following areas, including but not limited to:
Remote Healing Areas (below just examples):
(1) Pain, injuries or after surgery;
(2) Diabetes;
(3) Overweight;
(4) Hypertension;
(5) Depression & Low Energy;
(6) Qigong practice deviation;


(7) Lower back pain;
(8) Sleeping problem;
(9) Female system;
(10) Memory loss;
(11) Spiritual problems;
(12) Other problems.
*Not suitable to mental problems
A basic individual remote healing cycle consists of 3 consecutive days and one hour per day (you will receive more detailed 'remote healing instruction' with miracle individual healing signal set up after the registration).
A. Remote Healing Preparation for Best Healing Results

Before the remote healing starts, you may follow the great suggestions as below:

1) Practice the recharge qigong every day for 1-2 weeks (the Healing DVD kit) to get Qi meridians sensitive enough to receive the healing signals.

2) Drink the Yin-Yang healing tea every day with yin-yang energy coming to your body for detoxification. The Yin Yang healing tea has great healing results and testimony of 20 Years history, long term drinking the healing tea for Yin Yang balance is highly recommended.

3) Choose some energized healing products as supplementary for remote healing. This can enhance your vital Qi, adjust your weaknesses, and treat your disorganized system. We can give you free consultation and discuss the whole healing plan through email, and suggest what kind of energized healing food or object for you based on your healthy and spiritual situation.

4) Eat lighter veggie meals to guarantee the smoothness of energy signal transmission.
B. The above preparation allows you to reach the yin and yang energy balance and maximize the detoxification pressure difference in your body.

To drink yinyang tea three days in advance: https://www.qinway.org/qigong-tea.htm;

To practice the recharge qigong exercises in advance for three days: https://www.qinway.org/qigong-video.htm

Note: The effect of remote healing will be more obvious after completing the preparation; Of course, if you need to start remote healing for emergency, it is also possible, depending on everyone's physical sensitivity.
Step 1. The 3 days remote healing fee just $270; The 6 days remote healing could get $50 discount, costs only $490. The 9 days remote healing could get $162 discount, costs only $598.




Step 2.
After you paid, you shall send an email soon to Qinway: 930@qinway.org. Please fill out a Remote Healing Registration Form, attaching your most recent photo, which is important. After you finish the registration, Grandmaster will setup the individual energy signal right away and the fee is non-refundable.

Through the email we can have some necessary communications first, then Grandmaster will catch up more info about you and set up an individual remote healing plan with miracles signal for you.

You are connected to Qinway three high being system with detoxification and healing at this moment.

After preparation finished, you may email us the date to start your remote healing session. It will be 9:30pm-10:30 pm your local time. You will receive the remote healing instruction around 8:30pm.
Step 3. After remote healing session, you shall send a feedback to Grandmaster for fixing the remote healing signal, which is an important step for keeping the remote healing signals in your body for longer time, please do that.
For spiritual complete growth and special abilities development, fundamental healing and rejuvenation, you can come to the unique 3.3D special abilities & rejuvenation magnetic retreat, which is very limited size, high lever and real unique. ‍
End. A Special Reminder: The remote healing signal will automatically be disconnected when a healing cycle is complete.
Read More Successful Feedback
- in Previous Many Years Report

Charlie Tong, Fremont, CA, USA -来自美国加州Charlie童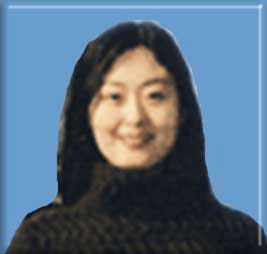 Charlie Tong's Sister
奇迹!大师的远程治疗完全治愈了我远在维也纳因车祸差点截肢妹妹!
Amazing! Grandmaster Qin did remote healing across the Atlantic Ocean for my sister (left picture).
My sister was injured in a serious car accident in Vienna, Austria. The X-ray showed that her thoracic spine had several small fractures. Thus she had trouble discharging stools, which caused her abdomen swelled. It was very dangerous. That night, I rushed to Qinway Institute to ask Grandmaster Qin to perform remote healing for her. The next day, her bowel movement became normal. In two weeks, her spinal injury recovered very well. Now she lives like a normal person, and recently went back Shanghai to see our parents just by herself! We are so luck!
-

R. R. - Hilo, HI - 来自美国夏威夷州 R. R先生
感觉到有能量在我身体、腿部、耳朵等流动并清洗着
Aloha Grandmaster Qin! I had a wonderful session last night, I could feel Master Qin's energy arrive very soft, then very strong, beautiful! I could feel it move through and around my body, to my legs, my ears, cleaning my organs, some past mental experiences. I was like a child seeing things simply and clear! Phase II I lay down, went into a trance like state then fell asleep! I woke up calm, less pain, more at peace!

S. S. - Honolulu, HI
Dear Master Qin, it was a great pleasure to meet you both yesterday and to feel the incredible energies from the universe and Master Qin. Night 1 of the remote healing was interesting. I felt extreme heat throughout my body, then I felt and saw the stuck energies of sickness draining from my body into the ground. I felt quite heated during Phase 1 of the healing. Phase 2 and sleep was wonderful.

S.A. - Encinitas, CA
On the first day of the remote healing I felt a strong energy come in to the top of my head and forehead area and down into my ears. I was also aware of a scent. I lost awareness of my physical self for about 10 or 15 minutes and then became aware of intense discomfort in my mid-back spine and around my torso and stomach. During the second half remote healing I had unpleasant emotional memories come up about being impaled that did not seem to be from this lifetime.

M. G. - San Francisco
Beautiful energy, feel very happy and light-hearted after the remote healing. At one point felt very healing energy in the area of the ovaries and a clearing there. It was a very strong transmission, I felt the energy actually pushing into the body to move old qi out. Toward the end I fell asleep.

J. M. - North Carolina
Please tell Master Qinway that I really appreciate and thank her for the remote healing session last night. For almost the whole hour I felt a very strong energy sensation.

S. A. - Angels Camp, CA
During remote healing I felt lighter and happy, even though earlier I had felt bad from a chest cold. Tingling, warm sensation Middle Dantien and heart area, a knowing for healing in that area. Quanyin appeared to me in soft purples and gold, smiling and assuring.

R. W. - Belgium
Energy went to different weak spots in the body during remote healing, like a clearing out, and then it went to a major emotion of sadness, and tears came. My cat wanted all the time to jump on my body, and I felt energy infusing. It made me calm, but I had to remove the cat.

L. B., Pasadena, CA
After remote healing I feel fine: strong, energized, no gum bleeding. I'm very grateful to Master Qin.

Julia - Canada
I wanted to thank Grandmaster Qin for the remote healing session I received 1 1/2 weeks ago. I have a lot more energy and the dizziness I was experiencing has subsided quite a bit. This remote healing has made a big difference to me.

Laurel - Santa Cruz
Things have certainly been shifting since the remote healing, especially hormonally. I've had pre menopausal symptoms recur for the first time in 3 years! Perhaps this was some stuck energy moving out.


"This is Really Powerful Remote Healing!"
-- Most Recent Report
* Hitender from New York
I had three days individual remote healing with grandmaster, for the first two sessions, when i start getting signal arround 9.50, i start seeing weird images in center of head space and start feeling bout of acidity.

I could not sleep well for the 1st night. Kept on seeing weird images all night long. The 2nd day I started feeling warmth in entire body and sweat on forehead. Later during 2nd day healing, I felt a very strong ball of energy hit the center of my chest. It was very obvious, as i am very sensitive of energies arround me. Thanks again! (May 30, 2021)
* Chander from Texas
During the individual remote healing with grandmaster, overall I felt very peaceful all across the body. I had some extra sensation in liver and right kidney.

I felt more clearing in the heart and throat area including the head. There was also a sensation in the lower belly. Thank you (May 10, 2021)
* Joachim from Germany
I had individual remote healing for 9 days, I`ve received the signals from Grandmaster, Guanyin and Medicine Buddha and it was amazing and abolutely helpful.

It depended a bit how deep I could get into a deep quiet state but I felt a lot during the sessions and also thereafter.

I had an acute problem with my left knee (swollen, painful and not moveable) just before starting the sessions and my knee is now completely healed.

Yesterday I walked almost 1 hour with no reactions after the walk and today I´ve made a bike tour for almost one hour also all fine. The doctor was surprised about my fast healing progress.Haha.

I also lost almost 2 kg weight and my sleep was deep and restful.

My heart is much more quit now and my digestive system works better now.

So, THANK YOU very much to you, Grandmaster Qin and to the holy Buddhas Guanyin and Medicine for helping me...! (March 18, 2022)

After finishes individual remote healing with grandmaster, I got big benefit and I´ve lost 1,5 kg weight. I feel much more relaxed in the shoulder and neck area. There is still some working in my stomach and intestines.
I feel much more grounded and more respectful to the whole world.
I feel more warmth in my body.
I felt a lot of sensations like spontaneous movements, seeing pictures from Guanyin, a little pain, slime coming out, vibrations and more stillness (Dec. 21, 2014)
* Arnaud from Canada
During phase I, I get very quickly hot and felt a lot of energy circulating into my body. When the numbers are used, I felt their vibration very clearly. It was as if my heart was singing them at specific sound frequencies. Soon after, I saw myself in a rob monk in a chinese temple. Other monks were around me forming a circle configuration and were using healing sounds.
All my body was vibrating, and it was as if my heart coordinated all the vibrations. I then see myself with the high beings. First the three one, and then a lot of buddha's came. Tears flowed from my eyes, it was like connecting again with old acquaintance. Finally, the water flow was coming and I came back into my body. The intensity increased progressively, and harmonized my body with power. (Jan. 2, 2015)
* Rosa from California
Thank you Grand Master! I have felt the biggest change in my mood. Prior to 930 I was severely depressed and full of anxiety. I was immediately much happier and have hope for my life. I do continue to have pain. I am doing the Chi Gong practice everyday and feel the energy quite easily. I would love to heal my body and live pain free. I thank you for anything further you can do to assist me.
* Shirley W - CA, Milpitas
On 9/30 I sit down at 9:15pm and my head became hot, especially the Baihui area felt numb, the feeling was so obvious and start from the Baihui area and spread to entire head for a long time, I feel so wonderful! When I imagine the immortal waterfall, slowly my hands heated up, getting hot, and I even got sweaty palms.
I usually have cold hands and feet, rarely feel the hot hands, this hot feelings lasted for ten minutes until the music finished. As a student,my Bigu started from September 29, I did not feel any hunger until now .Thanks 930, thanks you, Grandmaster!

* John G - CA, Ojai
The 930 distant energy transmission was powerful as always. I immediately felt the energy shift connection. It was so soothing I went to sleep and slept quite deeply and peacefully all night. I'm sure there is a big beneficial result on several levels!

* Lily L - CA, Fresno
Receive very clear has received Grandmaster remote healing 930 signals, while I'm practicing Qinway exercise, I feel very comfortable and relaxed, also I feel the stream flowing from head to feet, even the most painful part of the waist is also released. I saw the lights, gradually I fell into deep asleep...

* Helen H - CA, Fresno
During previous 930 events I always got a lot health benefits. But this 930 I worship Buddha for 3 times. During the sleeping qigong, I saw the big waterfall pouring on my body,just amazon!The next day I have 4-5 time detoxification's, without any stomach pain.

* Tang X - China, Shanghai
During 930 remote healing, I feel my head has a lot of energy and swelling and dumb. My finger became fat and round, feel tingling. My third eye saw the three high beings with bright lights. My arms have inductance feeling, my whole body is full of energy, and I feel calm and warm.

* Wensheng from Canada,Vancouver
(1) I feel my palm become hot in 930, my fingers feel numb like small needles. (2) My body feel warm. (3) My left cervical feels pain for a while and followed normal. (4) I feel dry mouth. (5) I feel peaceful and pleasure.

* Luojia Z - Canada,Vancouver
I feel calm in 930, very comfortable and pleasant during the 930 remote healing.

* Guangwu Z - China, Shanghai
I was traveling during 930 time. When I changed to local 9:30pm with follow grandmaster instruction to receive the energy signal, I could feel the strong energy infused into my body deeply immediately! Thank you, Grandmaster!

Christine - Chula Vista, CA
During remote healing, I could feel a sensation on both the left side and right side of my face, as if a narrow laser beam was penetrating into both areas in a circular motion. The throbbing pain I usually feel in the gum area where the teeth were removed had dissipated after remote healing.

Stephanie - Corona, CA
I could instantly feel the energy of the remote healing. My body started rocking back and forth and then stopped, and then started rocking again. My whole body got very hot, clammy... I could feel the bottom of my feet get very warm too. My lower back felt much better after the healing and my energy feels better today. I burned the tips of my fingers on my right hand using Clorox bleach and my fingers feel much, much better today.

Alex - Massachusetts
After receiving the remote healing on 9/30, I was able to sleep throughout the night without going to the bathroom!

S. Q. - Antioch, CA
I felt an influx of spiritual energy filling my body and auric field with light, and I tried to direct some of that energy towards my left foot, where the bunion is. The bigu and the Remote Healing are both giving me a lot more spiritual energy.

Arleen - San Mateo, CA
July 4th the first day of remote healing: I felt tingling of the soles of my feet and top of my head. Then I felt tingling from my feet to my chest. My body jerked a few times from the middle of my spine (my back). When I awoke-- still in a sleepy state - early the next morning (July 5th), I "saw" a round shield fly off my chest and also, felt an energy sensation follow the shield. It was a profound experience.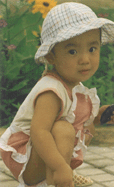 Grandmother Wu - Beijing, China
6-year-old Wu was seriously injured in car accident in Beijing, China. He had been in a coma for a few days, and stayed in an emergency room. Wu's grandmother was a student of Qinway Qigong, and asked Grandmaster Qin for help.
Grandmaster performed remote healing on Wu through his grandmother who was with Wu in the emergency room. Wu's grandma received energy transmission and remote healing instructions from Grandmaster Qin, and worked on her grandson. The next day, Wu woke up and soon recovered fully (see right picture).

S. H. - San Jose, CA
In the beginning of remote healing, I felt a slight spontaneous movement, and felt very comfortable. In the second phase, there was more spontaneous movement, and the top of my head felt tingling and swelling. My Lower Dantian was warm, and my whole body was unspeakably comfortable.

Phillip - Brooklyn, NY
I felt the beautiful energy when Grandmaster Qin performed remote healing on me. Also some of my acne went away after remote healing.